Player sponsorship helps Rhali reach her sporting goals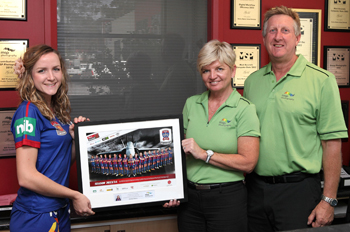 A player sponsorship from MSP Photography Hunter Central Coast has made a significant difference to Newcastle Jets W-League player Rhali Dobson.
We hear much about sporting superstars being paid phenomenal amounts of money, but far less is written about those talented athletes who don't attract seven figure sums.
This is especially true for sportswomen like Rhali, who often make many financial sacrifices to play their beloved sport.
Relocating to Newcastle from the Mid North Coast four years ago to study Occupational Therapy at the University of Newcastle, Rhali was determined not to place financial pressure on her family.
"I am the eldest of five siblings so I don't expect my parents to fork out more money for me," she said.
"MSP's player sponsorship has covered the costs for me to visit my family a few times up in Wauchope, 2.5 hours away. I do not get the opportunity to visit my family often and in the past when I have been able, I couldn't due to the cost.
"I know John and Tanya (Parmenter, owners of MSP Photography Hunter Central Coast) through Maitland Football Club. I have close ties to the Junior and Senior Clubs there through friendships and training with the club.
"The Junior secretary/publicity officer assisted in getting me the sponsorship because she knew how difficult things were juggling training, travel, working and university.
"Sponsors are fundamental to female athletes as, unless you play golf or tennis, the pay we receive is not enough to live on. We have to give up so much time to training and travel that even working part-time and full-time study has been a difficult balance. Sponsorship enables us to perform at our best while still affording to live."
John Parmenter said he first heard about Rhali through local sporting contacts.
"MSP Photography is heavily involved in junior sport in the Hunter, photographing both winter and summer sporting teams, and it is always nice to be able to give back something back to these clubs," he said.
It's an exciting time for Rhali who was recently called up to the Australian women's soccer team, the Matildas.
"It was huge surprise considering 12 months ago I was just playing in the local competition," she said.
"The next 12 months I plan to play in the 2014/15 W-League competition for the Newcastle Jets and maintain my place in the Australian squad for the World Cup next year (the Matildas recently qualified for the 2015 FIFA Women's World Cup in Canada next June/July)."
John said sponsoring Rhali was pleasing as she is an integral part of the Newcastle Jets W-League, but seeing her realise her dream of being called into the national Matildas squad made this a wonderful experience for us at MSP Photography.
"We wish her every success in the future," John said.
---